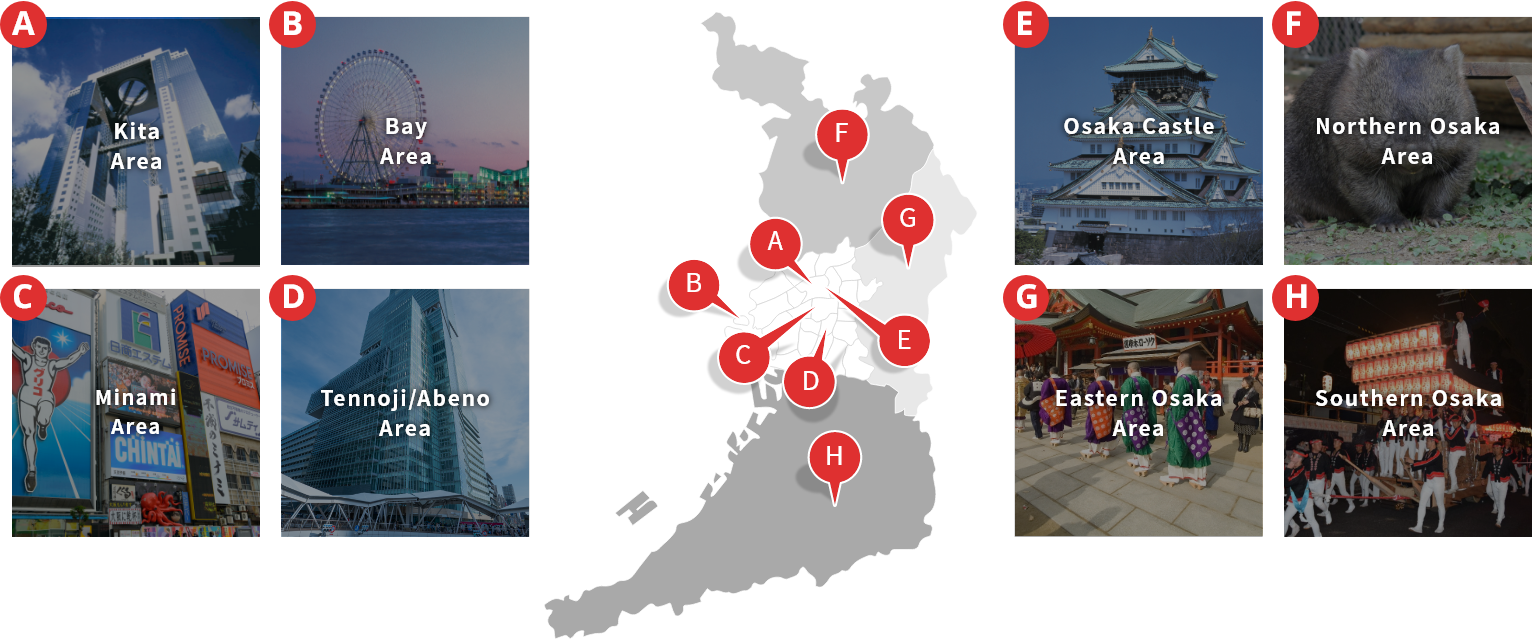 Osaka at a Glance
Excellent international
and domestic access.

Kansai International Airport (KIX) offers direct flights to 91 cities in 26 countries, with rapid access to Osaka city center. Itami Airport, Osaka Station, and Shin-Osaka Station (Western Japan's largest domestic air and rail terminals) provide exceptional domestic access.
Endless tourist
attractions.

With visits to Osaka Castle, afternoons at Osaka Aquarium Kaiyukan (one of the largest in the world), parties at Universal Studios Japan™, or cruises in the Osaka Bay, there is no end to sightseeing opportunities in Osaka.
Captivating food culture
and shopping.

Known as the place where you "eat till you drop," Osaka has all varieties of dining experiences from beloved "B-grade" street food, to luxury dining and cooking from around the world. Umeda, Namba, and Tennoji are among the most popular and convenient shopping and entertainment centers
A metropolis with affordable
prices and friendly people.

Despite being Japan's second-largest metropolis, Osaka is one of the most affordable cities in the country, with globally competitive airfares. Osaka is also famous for the warmhearted locals, who enthusiastically welcome visitors from overseas.
Specialized Industries in Osaka Prefecture
Commerce (Wholesale & Retail)

1.20x

Transportation

1.11x

Telecommunications

1.03x

Industry sub-categories Wholesale of Textile Products

3.9x

Industry sub-categories Wholesale of Chemical Products

2.0x
Number of cited immunology papersTotal 2010-2019

Source: Clarivate

Amount of funds received
for joint research with
private companies2018

Source: Ministry of Education, Culture,
Sports, Science and Technology (MEXT)
Past International Conferences
・G20 Osaka Summit (2019)
・The 8th Meeting of the International Federation for Artificial Organs (2019)
  (1,500 attendees)
Academic Strength
Osaka University Minoh Campus (Provided By: Osaka University)

Osaka University aims to be one of the world's leading research institutions, and its Immunology Frontier Research Center (IFReC) as well as Quantum Information and Quantum Biology Division (QIQB) are placed in the top tier of research institutions worldwide.

Osaka Metropolitan University, born from the merging of Osaka City University and Osaka Prefecture University, is one of the world's foremost research institutions and specifically shows incredible development in the fields of artificial photosynthesis, pharmaceutical science, and solid-state batteries.
Osaka University, known for being a leading organization in promoting industrial-academic cooperation, in 2020 received more research funding than any other university in Japan from private corporations.
Industrial Prowess
International Hub for Healthcare Innovation, due to open in 2024

Official rendering of Yumeshima, site of Expo 2025
(Provided By: Japan Association for the 2025 World Exposition)
Osaka can boast a status of being an epicenter for research and development in the fields of life science and pharmaceuticals, being the home of many biotechnology startups, research institutions, and universities.
Osaka is known for its history in inventing and craftwork. The city of Higashiosaka is the birthplace of high-tech research in technology ranging from electric toothbrushes to orbital satellites.
AI diagnostics, genome therapy, and other cutting-edge fields in regenerative medicine experience rapid development in Osaka. 2024 will see the opening of the International Hub for Healthcare Innovation, the first research center of its kind in Japan where medical institutions, venture startups, and supporting organizations will come to together to contribute to the future of regenerative medicine.
Yumeshima, the site of World Expo 2025 Osaka, Kansai, will see the realization of the cutting-edge Smart Resort City concept.