Spotlight
2021.07.05
Osaka MICE Spotlight, Volume 6
Meetings and event live streaming in one of Japan's largest digital education facilities
Introducing the Osaka MICE Spotlight!

Here, we at the Osaka Convention & Tourism Bureau introduce the unique venues that make Osaka the top MICE destination in Japan. Need to host a large event with live streaming capabilities or a meeting in an arena with a massive screen? Volume 6 features the meeting possibilities at REDEE, a digital education and entertainment center with the latest in digital connectivity.
Why host an event at REDEE?
Newly opened in March 2020, REDEE is located in the EXPOCITY entertainment complex in Suita City in northern Osaka. Used for digital education as well as e-sports experiences and competitions, REDEE's main arena theater can be rented out for all kinds of meetings and events.

In an ever-digitalizing telecommunications-based society, REDEE is an ideal venue for connecting and streaming events online.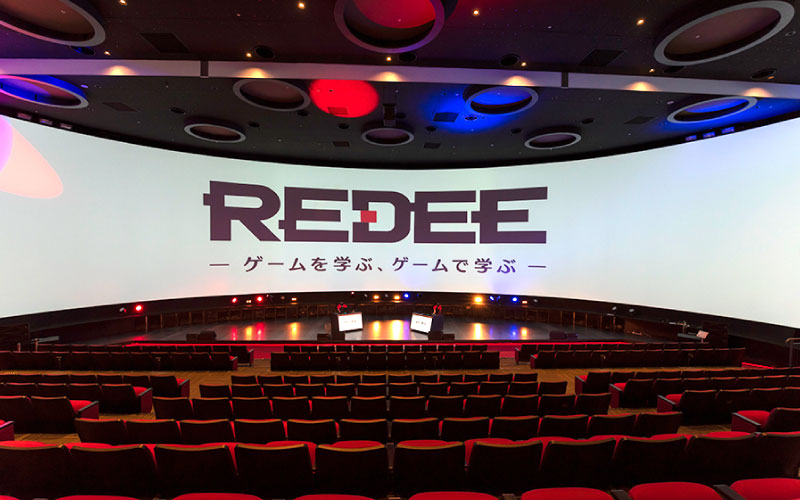 1) The colossal 40 x 8 meter screen is one of the venue's main highlights, also offering up arena space with a stage for large meetings and events.

2) The venue is fully equipped to meet acoustic, lighting, A/V, streaming, and nearly all other equipment needs.

3) Only 17 min. away by train from Osaka International (Itami) Airport and located within the LaLaport EXPOCITY shopping complex, REDEE is incredibly accessible from both within Japan and overseas.
REDEE Quick Facts
One of Japan's largest digital education facilities!
Open Hours
11:00 / 20:00
TEL
06-6155-7299
Access
2 min. walk from Banpaku-kinen-koen Station on the Osaka Monorail
Address
REDEE, within EXPOCITY
2-1 Senribanpakukoen, Suita, Osaka
Main Theater
A large arena space with a massive screen.
Fully equipped with any and all equipment needs, holding events in the main theater is smooth and reasonably-priced. The large screen with the stage allow organizers to host any kind of event.

Screen Size: 8 meters high x 40 meters wide
Seating Capacity: 258 seats
Price: 500,000 JPY per weekday 1,000,000 JPY per day on weekends and holidays Food and drinks allowed.

Past events include product launch presentations, meetings, seminars, lectures, public viewings, screening parties, and streaming events.
Sub Theater
With refined and comfortable seating as well as theater-class acoustics, the sub theater is ideal for business events and seminars.

Screen Size: 4.5 meters high x 8 meters wide
Seating Capacity: 70 seats

Food and drinks allowed.
Past events include meetings, seminars, lectures, public viewings, and screening parties.
Streaming Studio
Fully equipped with lighting, professional-grade cameras, acoustics, footage editing, and streaming computers all from the MC chair for live broadcasting. All streaming equipment is ready to use with no need to bring any outside gear.
Past events include online tournament streaming, YouTube streaming, and use as central headquarters for a streaming network across multiple venues.
REDEE Full Venue Buyout
The entirety of REDEE's space can be rented out for events! A great choice for employee benefit events and recreation.
A wide range of experiences are available in professional gaming, drones, virtual reality, and even YouTube streaming from recording to editing.
EXPOCITY, one of Japan's largest commercial complexes
A large-scale, mixed-use complex fusing entertainment and shopping, LaLaport EXPOCITY holds eight large entertainment facilities and 305 stores. Based on the concept of uniting the fun of playing, learning, and discovering, EXPOCITY offers sites from museums to theater facilities for educational and fun experiences.

Check below for more information on EXPOCITY:

Official Website
For inquiries regarding REDEE facility usage:
TEL: 06-6155-7299 (Japanese)


*Permission to publish these images has been granted by REDEE.だいております。