SDGs for MICE Sustainable Event Evaluation System
SDGs for MICE Sustainable Event Evaluation System
The SDGs for MICE Sustainable Event Evaluation System encourages event organizers, attendees, service providers, and local governments to work together to implement sustainable practices at meeting and events. It is our goal that through this program, event organizers can guarantee safety and peace of mind for both themselves and their attendees, ensure that the event fosters continued engagement in sustainable practices, and increase the overall value of their event. This system incorporates all 17 of the UN Sustainable Development Goals (SDGs). For more information on the SDGs, please refer to the United Nations website: https://www.un.org/sustainabledevelopment/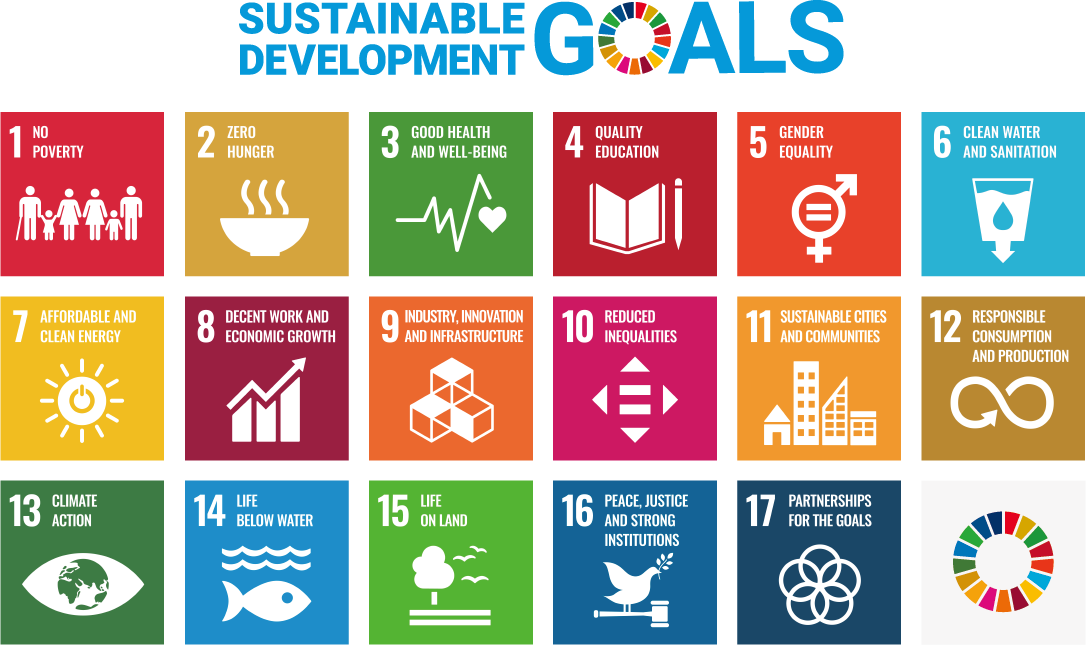 *This evaluation system is not-for-profit. Through this program, we aim to promote education of the Sustainable Development Goals and encourage organizers to implement them at events.
Receive Expert Advice and Feedback

We have created a detailed Action List for applicants, from which event organizers select the sustainable practices that work best for their event. We then appoint an expert advisor who gives tailored advise that make sustainable practices approachable and practical.
Showcase Your Accomplishments

Emphasize your initiatives to event stakeholders with the Sustainability Declaration Certificate, which we provide before the event. An expert then evaluates the event's outcomes, producing an Evaluation Certificate with specific feedback that showcases the event's accomplishments. This demonstrates how feasible sustainable practices are and encourages future implementation.
Program Timeline
3 Months Before Event

Organizer submits application to program secretariat (Osaka Convention & Tourism Bureau)

2 Months Before

Secretariat reviews application

1 Month Before

Advisor appointed by secretariat provides specific advice for sustainable measures to implement at the event, and sends declaration certificate to organizer

During Event

Organizers carry out event in accordance with advisor's guidance
Inspector appointed by the secretariat asseses the event on-site

1 Month After

Organizer creates activity report and submits to program secretariat

2 Months After

Secretariat and evaluation committee provide comments and feedback in an evaluation certificate and send to organizer
Past Events
2025 Osaka Kansai Business Support Expo

The 2025 Osaka Kansai Business Support Expo and the 1st Japan Clean Air Expo were held concurrently at INTEX Osaka March 15- 16, 2022. The event collected an additional 5,000 JPY fee from exhibitors, but these funds were used to reduce CO2 emissions and excess waste and to implement extensive recycling.

*This event is not a part of the SDGs for MICE system but is an example case of practical sustainable initiatives.

More details (Japanese)
FAQs
Who can apply to this program?

Event organizers can apply. Service providers in the events industry are also able to apply, but this system encourages collaboration between organizers and service providers in holding sustainable events.
When can I apply?

Once the event is officially decided, organizers can apply at any time. However, we ask that you apply at least 3 months in advance of the event to give sufficient time to receive and implement susainability guidance. In addition, the official handbook and action list that we provide are valid for events held between now and March 2024.
Can events held outside of Osaka apply?

Events outside of Osaka can apply. Please inquire for more details.
Who is the advisor that provides guidance for my event?

The advisor we appoint is an impartial and unbiased third-party expert with environmental management certification.
What conditions are there for events?

There are no restrictions for what events can apply based on event length, number of attendees, type of venue, etc. However, online events are unable to apply.
Does the application fee differ depening on the event?

No, the application fee is always fixed at 100,000 JPY (exl. tax). However for events held outside of Osaka, dispatching the inspector to the event may incur additional travel fees.
Do I need to engage in all 17 of the Sustainable Development Goals?

No. Organizers are encouraged to engage in as many goals as possible that can be implemented at their unique conference or exhibition, but are not required to implement all 17. However, the declared goals cannot be altered once the application has been submitted.
Will you put my event on your website?

Yes, once the event has concluded we will report it our website to showcase its success, including the event name, organizers, and relevant parties. If you do not wish to have your event on our website, please let us know in advance.
To Apply
For more details and to apply, please contact us directly at the Osaka Convention & Tourism Bureau.
Contact Form