8 urban areas across Osaka Prefecture, each with tight-knit collaboration for exceptional MICE events!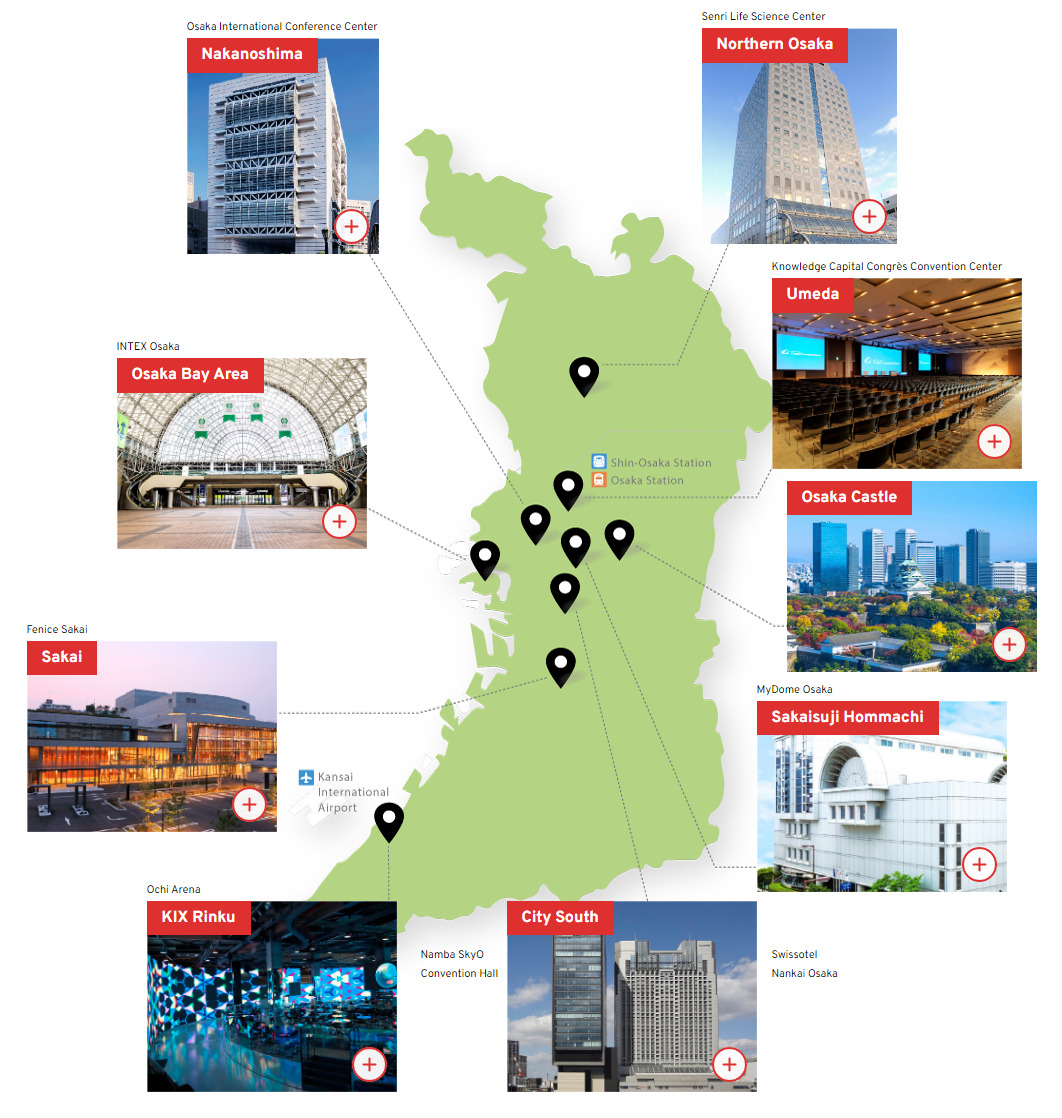 The Osaka Convention & Tourism Bureau has forged a new system for promoting and attracting MICE events across Osaka!
Based around major event facilities, eight different MICE Areas form the core of this system: Hokusetsu, Umeda, Nakanoshima, Sakaisuji Hommachi, Namba- Minami, the Osaka Bay Area, Sakai, and KIX Rinku.
Why create an Area MICE system?
1) Combining each area's unique strengths with sales strategy makes it easier to discover each area's unique appeal in holding events. 2) With representatives in each area leading the way in strategic planning, we can rapidly share information and develop game plans to attract events. 3) Collaboration between each area's major players serves to promote the sharing of information and increase Osaka's overall capability in holding any and all events across the prefecture.
The Osaka Convention & Tourism Bureau supports each individual MICE Area in their independent efforts. We encourage both collaboration and friendly competition between areas so that they can complement each other in any shortcomings, strengthen their ability to attract events, increase the number of events held, and ultimately further build up Osaka's brand strength as a MICE destination.
1. Hokusetsu Area

Northern Osaka, and MICE events surrounded by greenery.

Senri-Chuo Station in the center of the Hokusetsu Area features convenient access to Shin-Osaka, Umeda, and Namba on the same train line, each of which are 15, 20, and 30 minutes away, respectively. Osaka-Itami Airport is only 12 minutes away by monorail, and with additional highway access, the Hokusetsu Area is defined by its ease of access.

Hokusetsu holds the main venues of the Senri Life Science Center and the Senri Hankyu Hotel. Both within walking distance of Senri-Chuo Station, these facilities are home to many international and academic conferences.

Senri Life Science Center

The Hokusetsu Area's most defining feature is its greenery. Over 20% of the 1,160 hectare Senri New Town, the very first among Japan's "New Town" public housing initiatives, is public parks and green space. Expo '70 Commemorative Park, home of the famous Tower of the Sun, and Hattori Ryokuchi Park receive many visitors.

Complexes such as the Expo City shopping park provide after-convention entertainment. For event organizers who want to step away from the bustle of the city and truly focus on their event, the Hokusetsu Area is a perfect destination.

2. Umeda Area

An island in the center of the city, and a picturesque event destination.

Umeda Sky Building

Osaka's Umeda Area is home to western Japan's largest rail terminal, allowing for incredibly convenient domestic access. 2023 will see the opening of a new train line with a direct connection between Kansai International Airport and Shin-Osaka Station, which will rapidly improve access even further. The Umeda Area is incredibly well-equipped as a center of business, featuring small to medium-sized meeting and exhibition facilities such as Knowledge Capital Congrès Convention Center, the InterContinental Hotel Osaka, and the Umeda Sky Building.

Osaka Station

The area also has many internationally-renowned hotel brands ranging from 5-star hotels to budget-friendly accommodations, further increasing event capabilities.

With shopping, dining, theaters, and even short day trips to Tokyo, Kobe, or Nara, there is an incredible abundance of after-convention entertainment and experiences. The Umeda Area is ideal for MICE events looking for convenience, creativity, and excitement.

3. Nakanoshima Area

Osaka's center of business with unparalleled access.

Umeda Sky Building

Nestled between the Dojima and Tosabori Rivers, Nakanoshima ("central island") has long been the center of Osaka's political and economic activity. Today it is also an oasis in the city surrounded by water and beautiful greenery, enchanting visitors and representing Osaka's status as an aqua metropolis.

Osaka Station

Osaka City Central Public Hall

Nakanoshima is one of Osaka's leading MICE areas, featuring not just restaurants, cafes, museums for after-event entertainment, but also high functionality and usability. Many perfectly-equipped event facilities are on Nakanoshima, including the Osaka International Convention Center, the Rihga Royal Hotel Osaka, the Osaka City Central Public Hall, and the Dojima River Forum. Nakanoshima will also be home to Japan's foremost medical research center, the International Hub for Healthcare Innovation, which is currently under development.

4. Sakaisuji Hommachi Area

A compact and perfectly-equipped area ideal for medium to large-sized events.

MyDome Osaka

The Sakaisuji Hommachi Area is located in the center of Osaka city with excellent access. Historical buildings line the nearby riverways, remnants of when water transport supported the area's development. Riverside cafes and restaurants also line the riverside, creating a refreshing blend of historical and modern styles.

Osaka Castle and the Osaka Geihinkan

The area's primary event facilities include MyDome Osaka with its 4,843 square meters of exhibition space, the Osaka Chamber of Commerce with its meeting rooms for international conventions, and the Osaka Urban Industry Promotion Center, a support center for small and medium-sized enterprises with an auditorium, exhibition space, and meetings. Combined with the City Plaza Osaka hotel and its 12 banquet rooms, these four facilities can together provide unified support for even large-scale events.

5. Namba - Minami Area

An area brimming with the energy that defines Osaka.

Namba SkyO Convention Hall and the Swissotel Nankai Osaka

Namba, representative of the Minami ("south") area of Osaka city, is as an area representative of the spirit that fills all of Osaka. Namba features shopping from luxury brands to unique shops, as well as restaurants, cafes, theaters, hotels, and of course meeting facilities all packed together in the same area.

With many sightseeing spots, Namba is a bustling area. Especially after meetings, exhibitions, and other MICE events, it is incredibly easy to step out onto the neon-lit streets to see the famous Dotonbori, the Kuromon Ichiba market, and the lively Shin-Sekai while experiencing Osaka's street food culture.

Namba SkyO Convention Hall

Just a short distance south of Namba is Tennoji, where visitors can find the historical Shitenno-ji Temple, constructed by Prince Shotoku in the 6th century AD, in contrast to the modern Abeno Harukas, the tallest building in Japan with a sweeping view of all of Osaka.

The Namba - Minami Area is Osaka's treasure box, available for anyone at anytime to enjoy the incredibly diverse options..

6. Osaka Bay Area

Western Japan's largest event space, capable of hosting events of incredible scope!

Aerial view of the island of Sakishima

A city resort commanding an impressive view of the water, the Osaka Bay Area features western Japan's largest exhibition space INTEX Osaka as well as ATC Hall, hotels, restaurants, and shopping centers. Each facility is an expert in MICE events, who use their extensive experience to support any and all MICE events to ensure their success

The Osaka Bay Area will be the site of the 2025 World Expo, and is also the frontrunner location for a potential integrated resort (IR), which will contribute to the Osaka Bay Area becoming a world-class MICE area.

ATC & Sakishima Cosmo Tower

Universal Studios Japan™

The Osaka Bay Area boasts incredible after-event entertainment, where the Universal Studios Japan amusement park and the Osaka Kaiyukan Aquarium are all accessible within only 15 minutes by car.

7. Sakai Area

A key node in Japan's history and the city that breathed life into the handicraft tradition.

Fenice Sacay

Sakai City is located in southern Osaka Prefecture, only 15 minutes away from Namba by train. Nicknamed the "Venice of the East" during the Warring States period, Sakai has a deeply ingrained history and culture as an international trading port that has remained even to this day.

Along with being a MICE event destination, Sakai offers site visits to facilities that are developing cutting-edge technology, such as the Sakai Next-Generation Energy Park. Sakai additionally holds the Fenice Sacay, a music hall with impressive acoustic design and opera-style construction, ideal for music and culture events.

Tomb of Emperor Nintoku

After-event experiences are abound in Sakai. Osaka's first UNESCO-designated World Heritage Sites, the Mozu-Furuichi tumulus cluster including the tomb of Emperor Nintoku, are located here. Japanese tea ceremony, knife making, and even the bicycle industry have a rich history in Sakai, with several facilities to learn and experiences these traditions.

With site visits and deep experiences at industrial facilities, regional gourmet dining, a rich history, and a culture of handicraft traditions that have been passed down for generations, Sakai offers MICE event plans that are truly unique to Osaka.

8. KIX Rinku Area

Superior access to western Japan's premier airport.

Ebuno Izumi no Mori Hall

With the overwhelming advantage of being in close proximity to Kansai International Airport, industry professionals and academic experts from across Japan and the world gather in the KIX Rinku Area and Izumisano City for MICE events. The potential is limitless for parties at hotels and venues with gorgeous views.

The area is also home to the historical remains of the Hinenosho Estate, a nationally-designated Japan Heritage site, as well as the secluded Inunakiyama Hot Springs.

The Kanku Ice Arena, Rinku Premium Outlets, and other large commercial facilities are all within incredibly convenient walking distance of nearby hotels and stations.

Kansai International Airport

Rinku Premium Outlets

Sennan City Marble Beach
Izumisano City Promotional Video