News
2022.03.17
The 1st Japan Tourism Showcase in Osaka, Kansai: Travel talk speakers and online business matching system
Introducing guest speakers Dream Aya and OCTB President Hiroshi Mizohata!
The 1st Japan Tourism Showcase in Osaka, Kansai
The online business talks and matching system is also now open!
When: Friday, March 25- Sunday, March 27, 2022
 March 25 is for business attendees only
 March 26 and 27 are for business attendees and the general public
Where: INTEX Osaka
Organized by the Japan Tourism Showcase Executive Committee (President: Kazuyuki Ochiai, Executive Officer, Mynavi Corporation), the Japan Tourism Showcase aims to:
(1) Promote and revitalize the allure of domestic travel to Japanese travelers to further expand the industry.
(2) Provide a tailwind for the recovery of inbound tourism by showcasing Japan tourism to travel companies around the world.
The Osaka Convention & Tourism Bureau is lending special support to this event to ensure its success.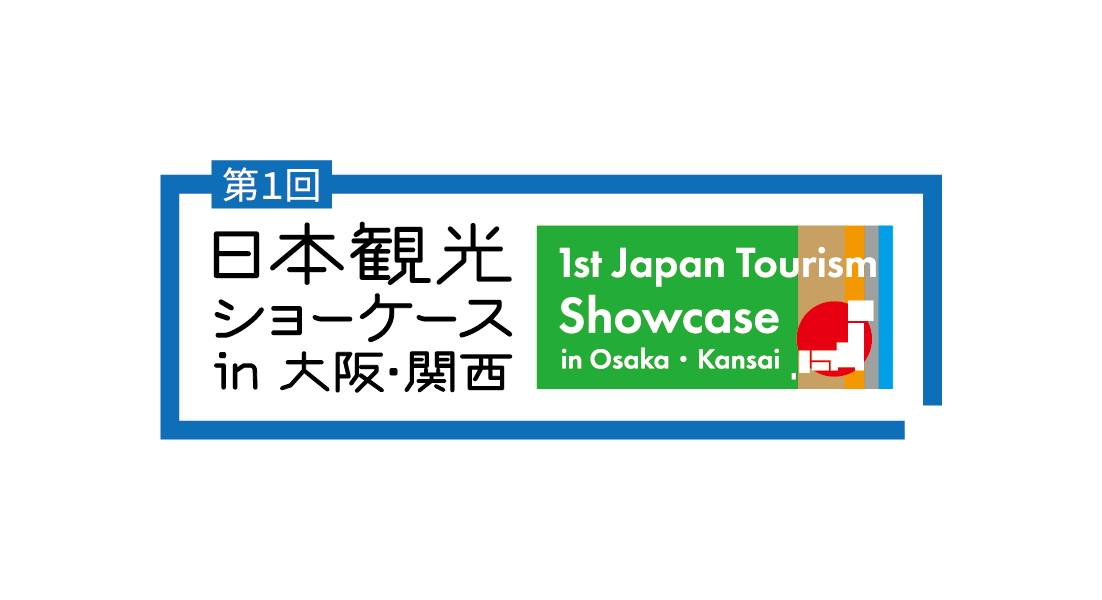 ---
Travel Talks

In addition to the exhibition booths that facilitate the free exchange of business ideas, the event offers an incredible variety of experiences including talks on travel from experts and celebrities, as well as the dining and catering area featuring delicacies and sweets from regions across Japan all gathered under one roof.
Dream Aya on how to enjoy travel
Saturday, March 26, 14:00- 14:45
Dream Aya, photographer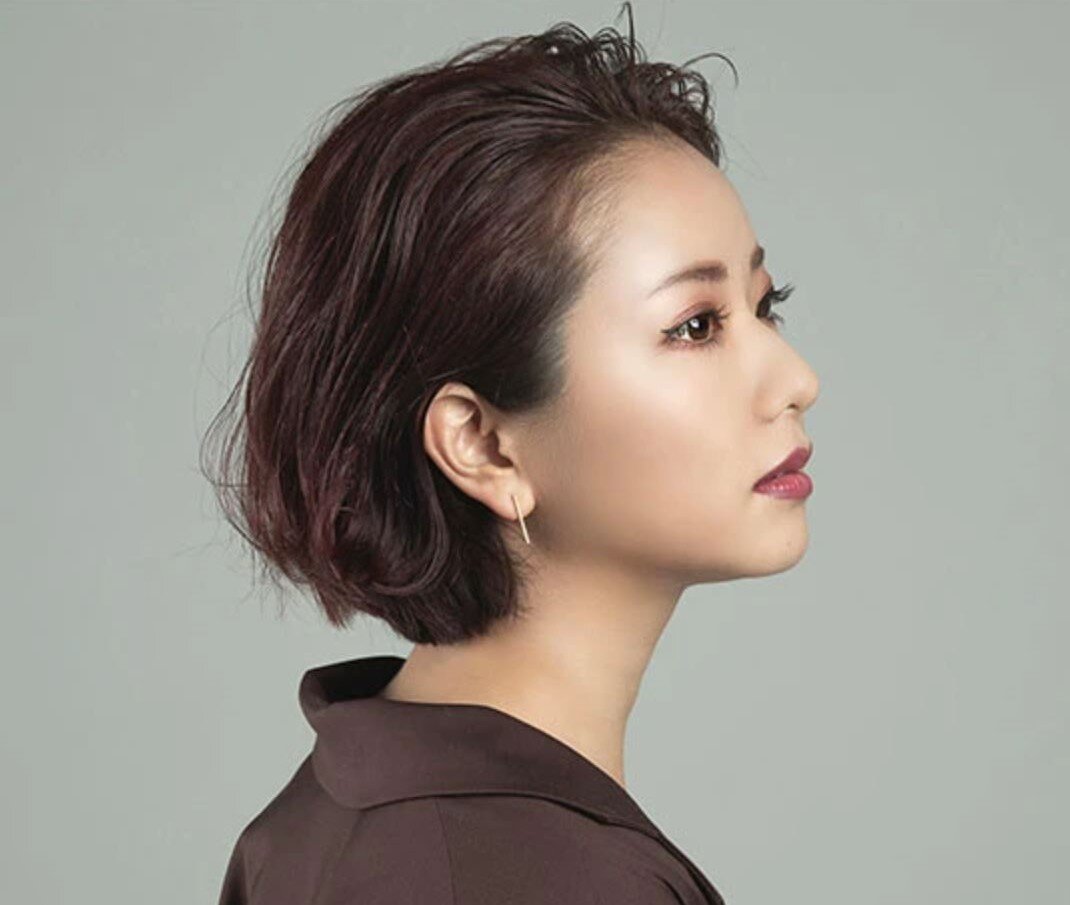 Upon retiring from a music career with the J-pop group E-girls and their sub-unit Dream, Dream Aya began a career as an artist utilizing her skills in photography and painting. She became an independent photographer in January 2020 and now works on multi-faceted creative projects. Dream Aya also passionately works for the promotion and economic development of regional areas, and became a "Dream Ambassador" for her hometown of Matsubara City, Osaka. While showcasing her own photos, Dream Aya discusses ways to enjoy travel from a female perspective and how to make use of social media.

On the Osaka Convention & Tourism Bureau's initiatives
Sunday, March 27, 11:00- 12:00
Hiroshi Mizohata, President of the Osaka Convention & Tourism Bureau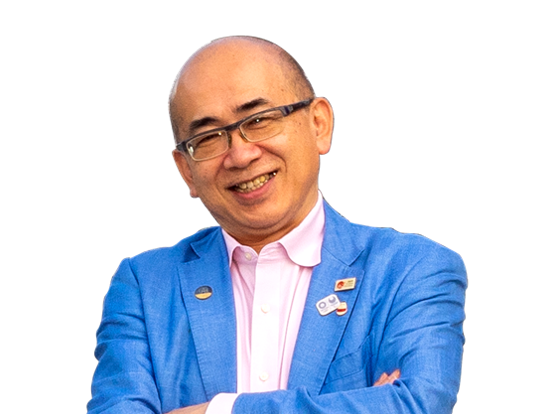 Despite facing an unprecedented crisis amid the COVID-19 pandemic, the tourism industry now sees a positive outlook thanks to the progress of the vaccine rollout and development of medicine, and the demand for travel has been rapidly growing. 2022 will become the turning point in recovering for the tourism industry. With tourism's recovery a sure bet and with World Expo 2025 on its way, President Mizohata passionately discusses the Osaka Convention & Tourism Bureau's strategies that make Osaka a forerunner in Japan's tourism industry.
Check here for more information on other seminars:
---
Business Talks + Opportunity Matching

An indispensable tool for attendees, the Tourism Showcase offers a place to connect with exhibitors and business to hold in-depth discussions, meeting the demand for attendees to be able to connect with new regions across Japan and for exhibiting organizations to boost their business. Two features in particular make this system a valuable tool:
1) The reservation system is now open, reserve a meeting either online or in-person!
Using the exhibitor search function on the event website, attendees can reserve a meeting with any exhibiting organization listed by accessing the "Opportunity Reservation Tool" link listed with the organization name. Both online and in-person meetings can be scheduled for the event's 3-day run from Friday, March 25 to Sunday, March 27.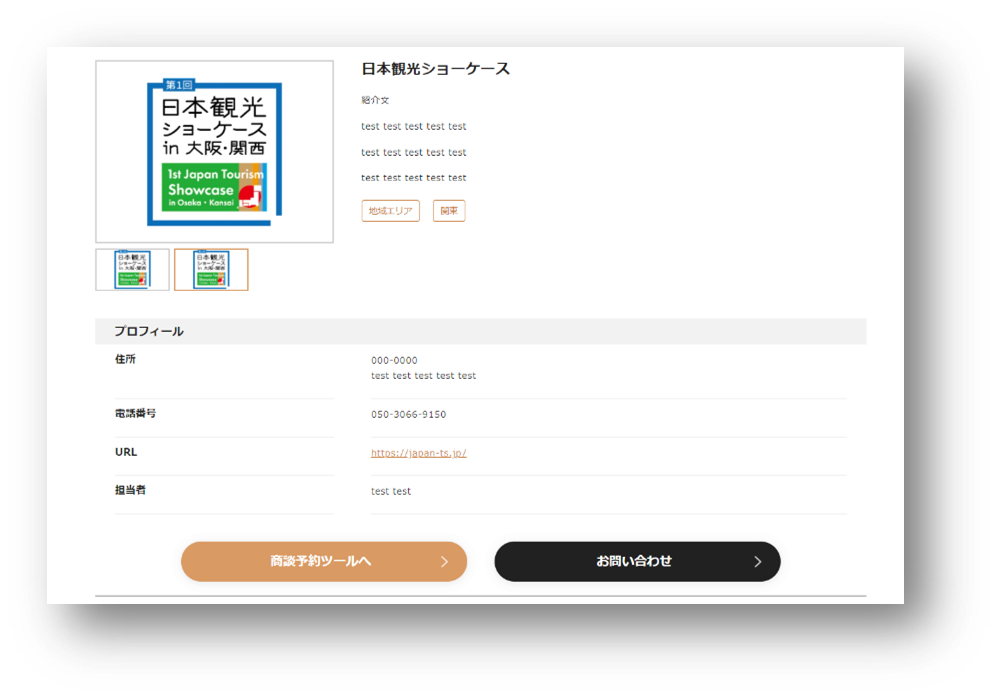 2) Reservations for the matching system are now open, offering a chance to meet new business partners.
By just answering a few simple questions, attendees are provided a list of recommended exhibitors. A feature unique to the Japan Toursim Showcase, using this matching system gives attendees a chance to forge previously unthought-of business connections. Members of the general public are also encouraged to give the feature a try to discover new destinations and travel options.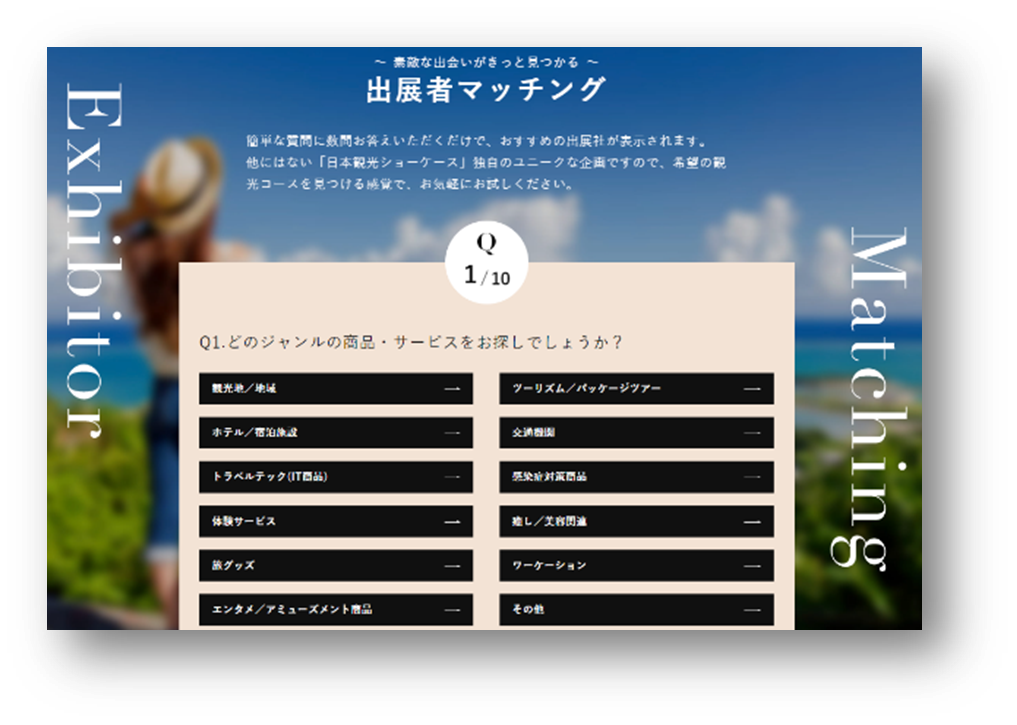 New exhibitors are still being added!
Newly added organizations include Kushiro City and Tsuruga Group, as of February 21.
Check the current exhibitor information from the link below. The list will be updated with many more exhibitors leading up to the event. (English page currently being updated.)
Register to attend!
As a part of social distancing measures during the COVID-19 pandemic, attendance at the Japan Tourism Showcase requires pre-registration. Please register from the event homepage below, and from the "Visitor Registration" button on the top left of the event homepage.
Event Outline
Event Name:
第1回 日本観光ショーケース in 大阪・関西
The 1st Japan Tourism Showcase in Osaka, Kansai
Dates:
March 25- 27, 2022
Venue:
INTEX Osaka
1-5-102 Nankokita, Suminoe-ku, Osaka 559-0034
Entrance:
Free Admission
Organizer:
Japan Tourism Showcase in Osaka, Kansai Executive Committee (Mynavi Corporation, among others)
Special Collaborator:
Osaka Convention & Tourism Bureau
Sponsors:
Japan Tourism Agency, Ministry of Foreign Affairs, Osaka Prefecture, Osaka City, Osaka Chamber of Commerce and Industry, Kansai Economic Federation, Kansai Association of Corporate Executives, Union of Kansai Governments, Japan Travel and Tourism Association, Japan Association of Travel Agents, All Nippon Travel Agents Association, Japan National Tourism Organization (JNTO), Japan Association for the 2025 World Exposition, Osaka International Business Promotion Center, Osaka Metro Co., Ltd., Kansai Airports, Kintetsu Group Holdings Co., Ltd., Nankai Electric Railway Co., Ltd., East Japan Railway Company, Hankyu Hanshin Holdings, Inc., and the Tourism EXPO Japan 2023 Osaka, Kansai Venue Liaison Committee
---
For inquiries:
Japan Tourism Showcase Executive Committee Secretariat
7F The ParkRex Shintomicho, 1-9-6 Shintomi, Chuo-ku, Tokyo 104-0041
Email: [email protected]
TEL: 050-3066-9150 (Weekdays: 10:00- 17:00)