News
2023.02.02
Osaka fosters innovation and promotes startups with U-FINO and Hack Osaka 2023
Open innovation promotion from U-FINO and Hack Osaka 2023
"The Future of Kansai through Innovation"
When: February 18 and 21-22, 2023
Where: Congrès Convention Center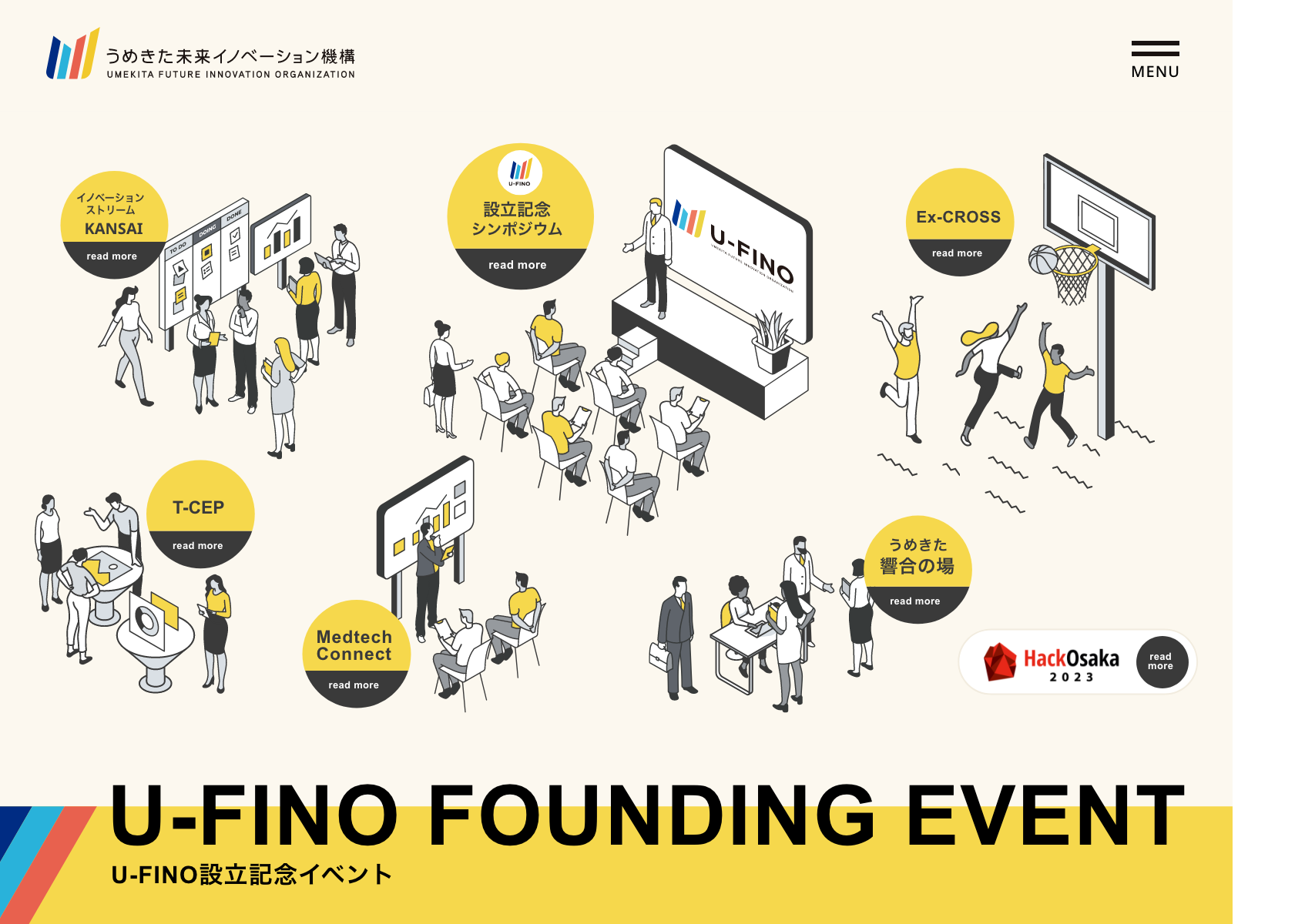 U-FINO Founding Event
U-FINO, the Umekita Future Innovation Organization, plays a central role in fostering innovation around the Umekita 2nd Project development initiative, and was founded in collaboration from the Kansai Economic Federation, the Osaka Chamber of Commerce and Industry, Osaka Prefecture, the City of Osaka, and Umekita 2nd Project Development Consortium. In order to acheive the Umekita 2nd Project's vision of life science innovation in creating new industries, close collaboration between businesses, academica, and the government is more important than ever.

The Umekita 2nd Project is the second phase of a redevelopment project to transform the former trainyards north of Osaka Station into a new, modern city district. Located in Umeda, the primary transportation hub for Osaka and western Japan, the project is planned to for a partial opening in summer 2024 and full opening in 2027. Umekita 2nd Project will feature large-scale meeting and event spaces, hotels, commercial facilities, and a massive 45,000 square meter area of green space. See more information on the project here:
In order to help solve social issues and create new industries, as well as to promote the birth of innovation in Osaka and the Kansai region, U-FINO aims to develop an ecosystem where new products, services, and businesses can develop by gathering information, people, and technology in the Umekita 2nd Project. To this end, U-FINO connects producer-driven solutions with support resources while sharing the network and experience that participating organizations possess, aiming to demonstrate the hub functionality that supports the commercialization of innovation and strengthen this overall ecosystem.
The U-FINO Founding Event, being held to commemorate their official launch in September 2022, will feature a series of workshops, symposiums, display booths, panel discussions, and speakers to not only launch dialogue on Japan's current status in a global context and the role of U-FINO in the development of Kansai's future, but also to showcase the latest innovate concepts that can be implemented at Umekita 2nd Project.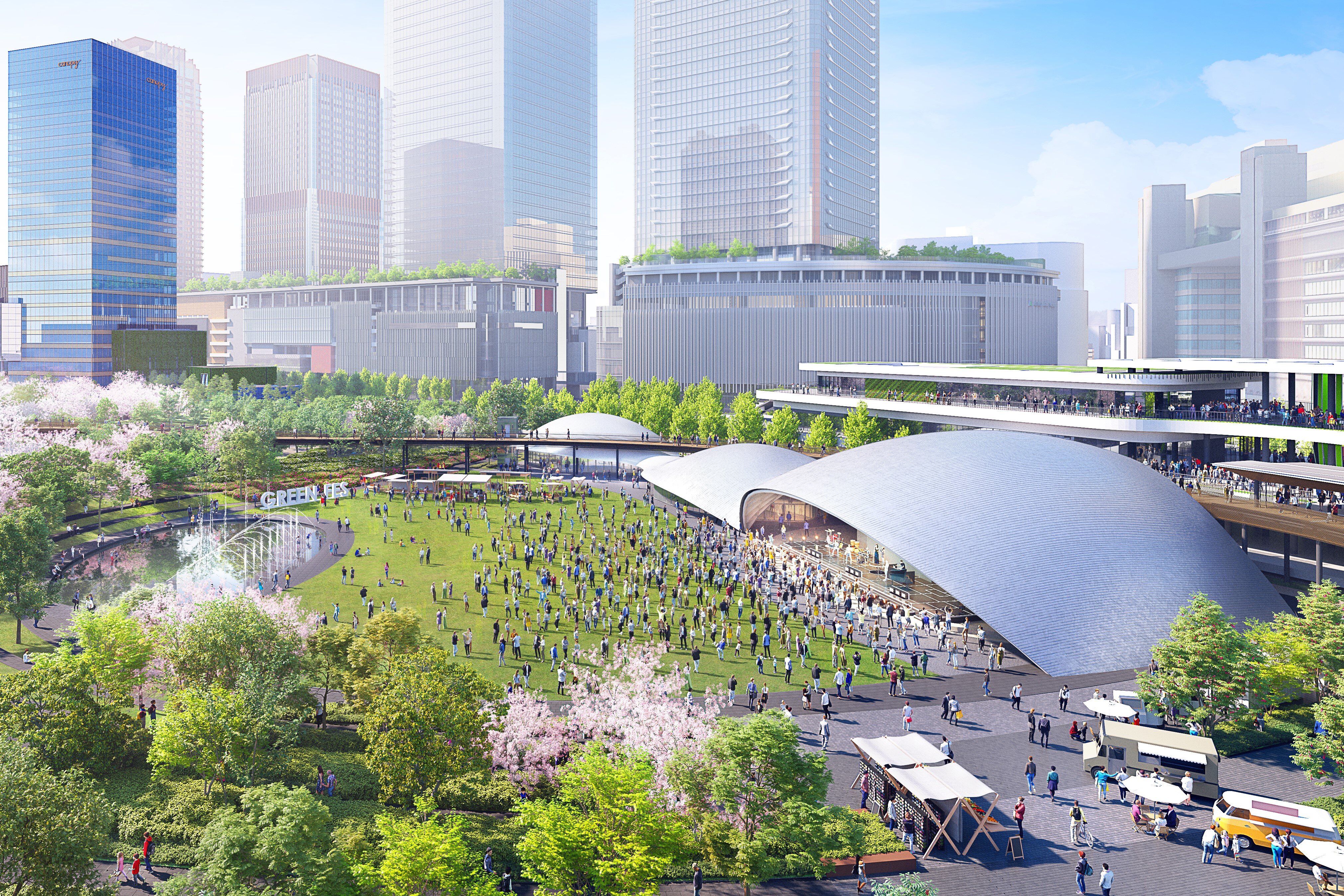 Concept image of Reflection Plaza, with high-quality natural turf and pond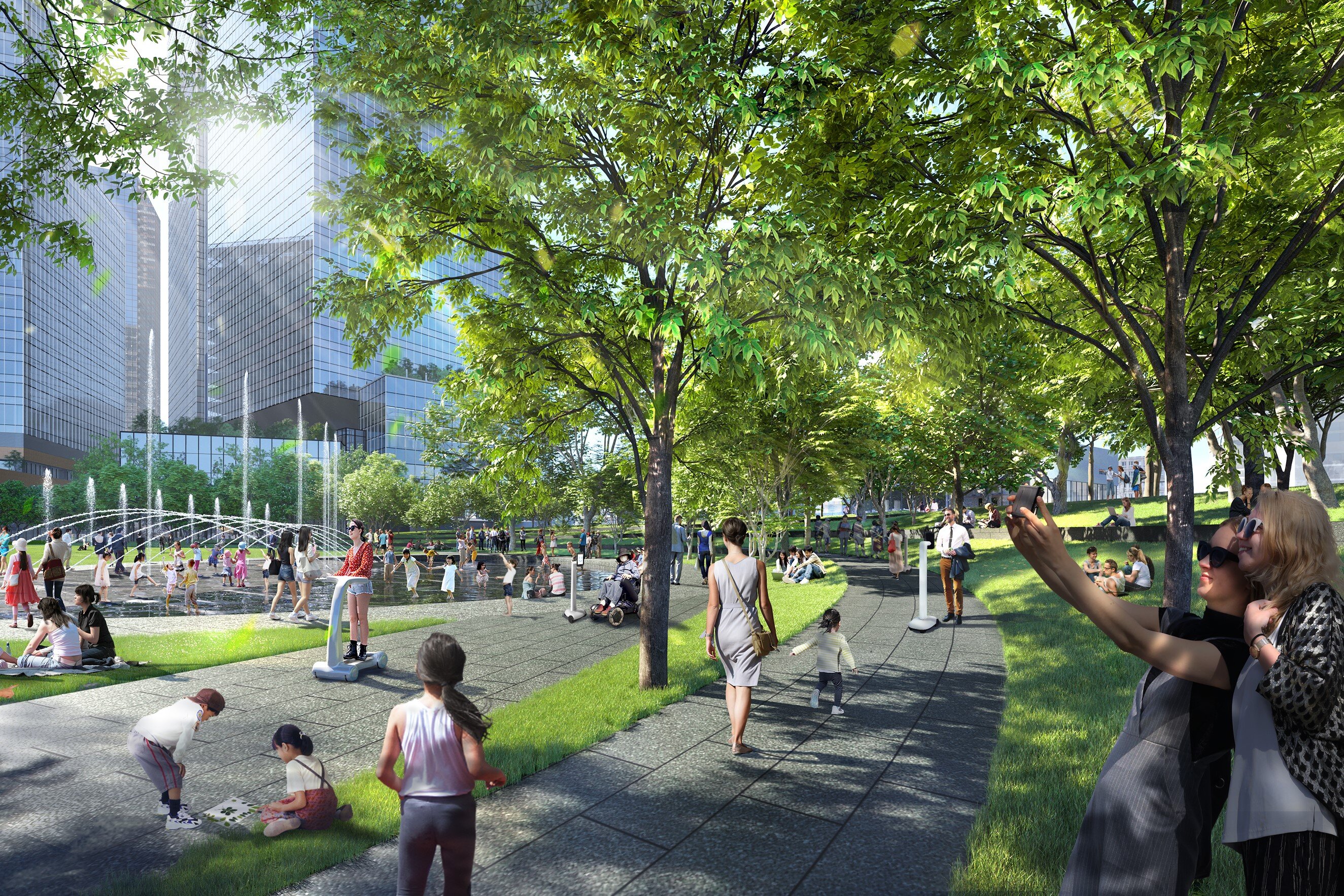 Concept image of sloping relaxation area with gentle shade and shallow wading pool
*Concept images are current as of May 2022 and the final construction may differ.
See more information on U-FINO here (in Japanese):
---

Hack Osaka
In addition to providing opportunities for various ecosystem players such as entrepreneurs, investors, large companies, students, and local governments to organically connect with each other, the annual Hack Osaka event aims to create an ecosystem that creates new value by gathering expertise and best practices from Osaka, Kansai, Japan, and the world; by increasing the attraction of globally active startups through disseminating Osaka and Kansai's "resources" to realize innovation both domestically and internationally. Gathering many different startups with global vision in one place, Hack Osaka 2023 is bound to be an exciting event, so see more information and register from the official website below:
*The U-FINO Founding Event and Hack Osaka 2023 will be held concurrently.
Event Overview
| | |
| --- | --- |
| Event Name: | U-FINO Founding Event |
| Dates: | February 21- 22, 2023 |
| Venue: | Congrès Convention Center |
| Organizer: | Umekita Future Innovation Organization |
| Supported by: | Umekita 2nd Project Development Consortium, Osaka Prefecture, City of Osaka, Kansai Economic Federation, Osaka Chamber of Commerce and Industry |
| Special support from: | Co-Creation Generator (CCG) |
| Cooperation from: | Osaka Science & Technology Center, Urban Renaissance Agency |